iTunes is a smart tool for iOS users to transfer files between iPhone/iPad/iPod and PC. But when iTunes sync session failed to start, it could trouble a lot. Reviewed from Apple Support Communities, Mac Rumors forum and other iOS-related forums, quite a few users have complained that:
"When I try and sync my iPhone 6 with iTunes I'm now getting a message 'iTunes sync session failed to start'! Any idea of how to resolve this?"
This error usually occurs when you're trying to sync iPhone/iPad/iPod with iTunes. If you stuck in this situation, it means you can't proceed to any steps on iTunes. Don't give up, things will turn better. The following listed solutions can usually resolve this issue. Try them and actually fix sync session failed to start in iTunes.
How to Resolve iTunes Sync Session Failed to Start on iPhone/iPad/iPod
Check USB Connection
A broken cable connection between iPhone/iPad/iPod and your computer may cause iTunes sync problem. The loose or damaged USB cable can hinder proper communication between iOS device and the iTunes. In addition, the problem with your computer's USB port may cause iTunes sync session failed to start. To fix this problem, you'd better to check the USB cable to make sure that you have the Apple-supplied USB cable directly connect to your device.
Reboot All
Restart your computer and your iPhone, iPad or iPod.
Close iTunes then launch it again to try to sync iTunes to iOS devices.
Update All
Install all required updates for your computer/laptop.
Install the latest version of iTunes on PC.
If all updates were applied, reboot computer and restart iTunes to sync iPhone/iPad/iPod.
Delete iPhone/iPad/iPod Backups and Reset Sync History
Each time when you sync, iTunes doesn't create new backup file, it only overwrites or attaches old backups. If a backup become corrupt, it can lead to the iTunes sync error even result in an iTunes sync session failed to start error.
For Windows users: click Edit on the menu bar > click Preferences > click the Device tab
For Mac users: open iTunes – COMMAND + > open preferences > click the Device tab
If multiple devices appear under Device Backups, select the correct one.
Then click Delete Backup button > click Reset Sync History button (if applicable) > close iTunes > restart iPhone/iPad/iPod (instructions above) > reboot computer > open iTunes – Try to sync iTunes to iPhone/iPad/iPod.
Use Free TunesCare to Fix iTunes Sync Session Failed to Start Problem
TunesCare is professionally aimed to fix iTunes sync problems. Having a neat interface, you can repair the iTunes library just by one click.
Open this free PC iTunes repair tool, and connect an iOS device to computer with USB cable. You can click "Fix iTunes Sync Problems" to start repairing the iTunes sync issue.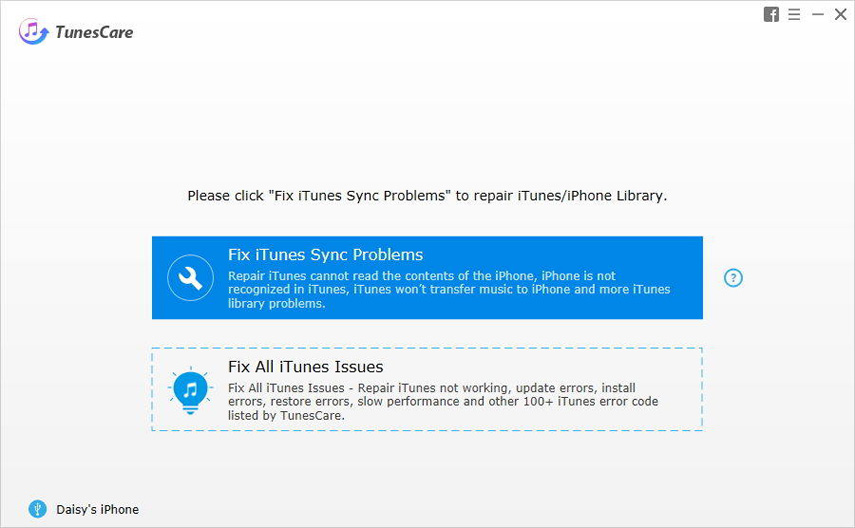 After this process, your iTunes issue will be fixed automatically. Not only repairing the corrupted iTunes library, this iTunes repair software also can fix all iTunes errors without restoring your iPhone, iPad.
If your iOS still can't sync to iTunes with the methods above, the database which holds your iTunes information may go wrong. All to be good, there's a professional iTunes alternative tool Tenorshare iCareFone (iPhone Care Pro) for you to trasnfer data and backup & restore iOS data without using iTunes. It supports Windows 10/8.1/8/7/XP/Vista and MacOS Seirra, OS X 10.11 EI Capitan, 10.10 Yosemite, 10.9 Mavericks, and OS X 10.8.
Hopefully the methods above can fully solve iTunes sync session failed to start problem.